Update:  The giveaway winner is Sharon Davenport.  Congratulation to Sharon!  Also a huge thank you to everyone that left wonderful comments.  They are amazing to read!

---
Last week I shared a few simple holiday memories around homemade gifts.  I loved reading through the sweet memories you shared in the comments and the stories you emailed to me.  Today I have a couple sweet stories shared by readers.
First we'll hear from Jo about the special gifts and memories her mother made for her kids.  I am tickled by the connection Jo made to play from the experience.
My memories of childhood and dolls is my mother making a brides dress for the birthday girl and the other two girls would get a bridesmaid dress for their dolls.
What I have come to find out years later is that my parents were just making it financially and mum, to give us a treat, would take us by train to the next town, to take us to the church on the hill.  A big walk for little legs and we could see the BRIDE.  It was so wonderful.  Mum made it so special and such a happy time… and the dolls were then part of the games once we got home.   -Jo
The next story from Jeanne is a heartfelt experience of brightening the holidays for kids during tough times.
One story that especially comes to my mind was one year when the mine at Ruth, NV was on strike.  For a year or two people were really strapped for money.  Our church went around and collected old toys that people could donate.  The scouts took the boy toys and painted and fixed them up.  A friend and I took the dolls.  We cleaned them up and curled their hair. I had them sitting on vents all over the house to get dry.  Then we made each of them 3 outfits.  We put up a note on the store bulletin board that Santa's helpers would be at the church on such and such a day.  Anyone that wanted to come get toys could come at that time and pick them up.  It was a Christmas I will always remember. Thanks for letting me share.   -Jeanne
Thank you to everyone that shared!  You can read more memories in the comments on the original blog post here.  I was so touched by the stories I wanted to do one more week of sharing memories and also give you an opportunity to win my newest pattern that's out.  Leave a comment below to share a memory of a homemade gift that you made or was given to you that touched you.  Everyone that shares a memory in the comments below will also be entered in a giveaway to win a PDF sewing pattern from my shop.
-Anna
Here are the giveaway details: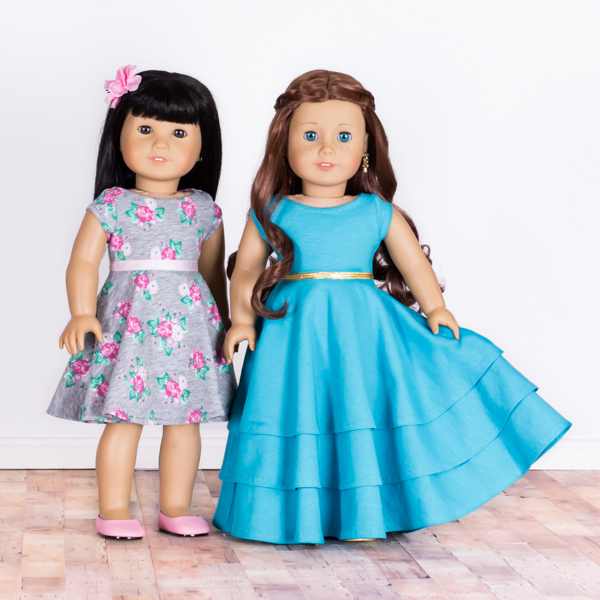 Pattern Giveaway
Enter to win:

Comment below and share a memory of a homemade gift that you either made or received that touched you.
I will notify the winner by email, so enter your email in the appropriate field when submitting your comment.  Your email will not be visible to others.

One entry will be chosen at random.
This giveaway is for the choice of the Lucy Gown Pattern or the Ruffled Tankini Pattern and the accompanying Sewing Guide.  It is a digital PDF pattern and instruction download.
You must be at least 13 years old to enter.  (If you are younger than 13, have a parent enter for you.)
Giveaway ends on Tuesday December 26, 2017 at Midnight MST.