Updated with a winner!  Congrats Debbi Luby!  Check your email inbox!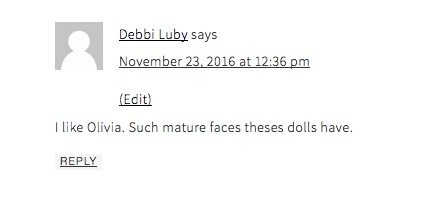 ---
We took a close up look at the My Salon Doll, Olivia.  Now I have a fabulous giveaway for a My Salon Doll!
If you missed the review, be sure to check out part one here.  The most unique feature of the My Salon Dolls are their real human hair, perfect for curling, styling, and fixing!  A big thank you to My Salon Doll for hosting this giveaway! Instructions to enter the giveaway are below.  Good luck!
-Anna

GIVEAWAY:
HOW TO ENTER:
Mandatory Entry– First go over to the My Salon Doll website here and look at the My Salon Dolls and accessory sets.  Come back to Doll It Up, leave a comment below and share your favorite My Salon Doll.
Additional Entry Options-Leave additional comments below with a "shout out" of the additional entries submitted. You can have multiple entries, so here is an example of how this works: Comment 1– mandatory entry  Comment 2 (additional entry)-"Liked Doll It Up and My Salon Doll on Facebook".  Comment 3 (additional entry)-"Mentioned the giveaway on my own blog"
Here are the options for the additional entries:
Post/Share the giveaway on Facebook.
Pin the giveaway image on your Pinterest board.
Mention the giveaway on your own blog.
✔Check Out the Rules:
✔Double check your email address when you are submitting your comment, to make sure it's correct!  (Of course we will only use it to contact the winner and will never share it.)
✔Must be 13 or older to enter the giveaway. (If you are under 13 have a parent or grandparent enter for you!)
✔Giveaway open to US mailing addresses only.
✔We are using the "Pick Giveaway Winner" plugin to choose a random winner.
✔Giveaway closes at 12 midnight EST Wednesday November 30, 2016.