Today I have a Scandinavian headband and tassel belt craft to share.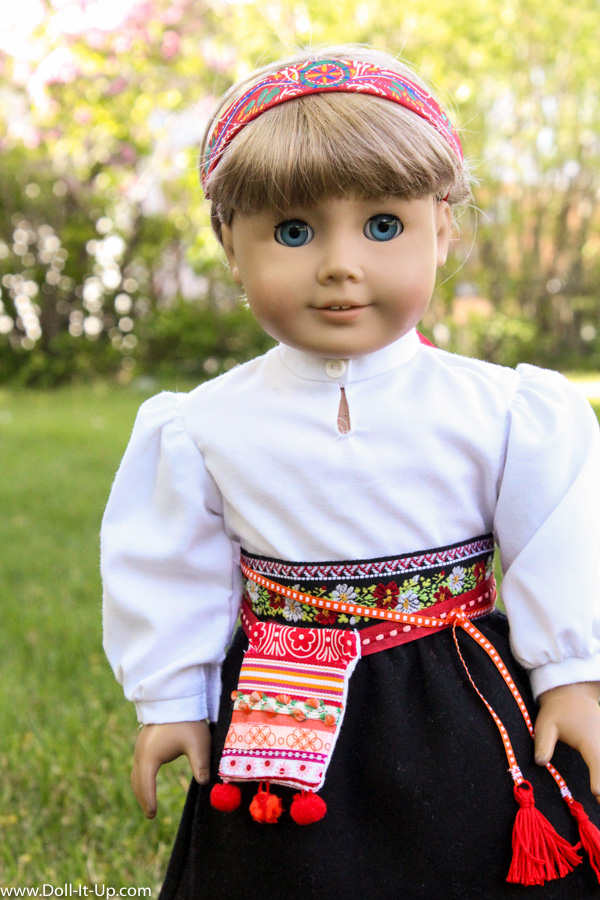 A couple weeks ago I went to Swiss Days, a festival and craft fair, up in the mountains in the quaint town of Midway, Utah.  I loved seeing the Swiss folk costumes, from the little children, to the little old gentlemen, to the performers, to the shop vendors.  One of the shops even sold a Swiss folk costume for 18″ dolls.  It's fun how doll play can reach into history and cultures!
One of our dolls, Kirsten, has an accompanying story of immigrating from Sweden to the USA in the mid 1800's.  We have enjoyed her clothing and accessories inspired by Swedish and Scandinavian folk costumes.
Today I'm sharing a love for history and cultures with a craft inspired by Scandinavian folk costume accessories, for doll play!
Scandinavian Headband
The base of this headband is the same as the wooden headband we made a few weeks ago from a craft stick.  This time we give it a Scandinavian flair by painting it red and added a fun design.  Check out the Scandinavian headband I used for inspiration here.  It is gorgeous!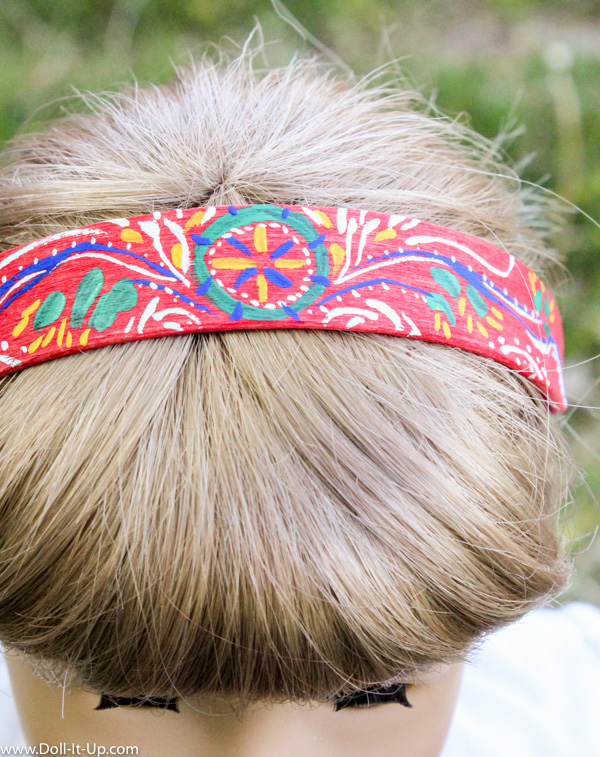 Instead of using elastic in the back, glue a long ribbon to each end of the headband.  Tie it at the base of the doll's head.  The side view of the inspiration headband is here.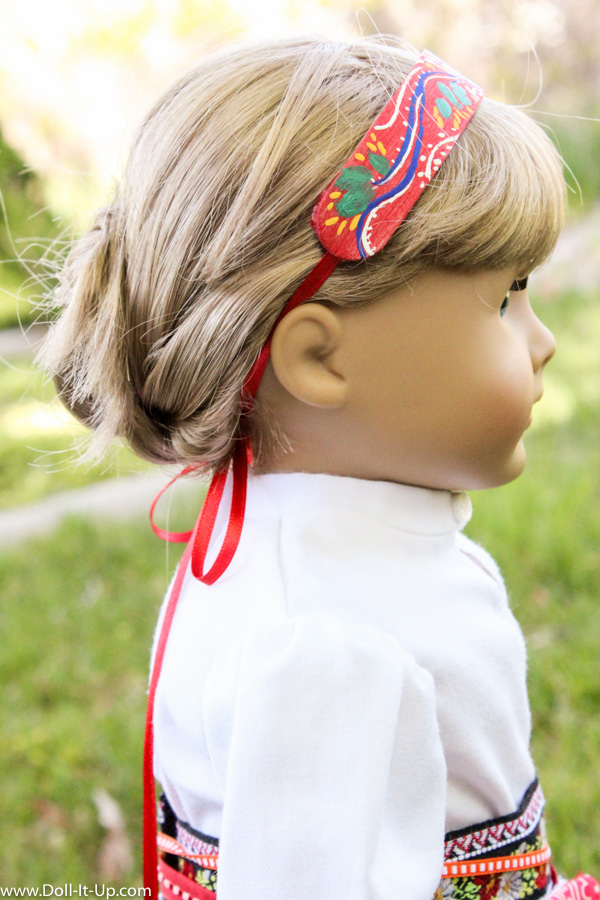 Scandinavian Tassel Belt
Add tassels to each end of a ribbon for the doll size tassel belt.
Make an easy tassel following the tutorial in the pom pom scarf project here.  Leave a loop on the end of the tassel and thread the ribbon through.  Fold the ribbon end over and hand stitch it down.
Tassel belt inspiration is here and here.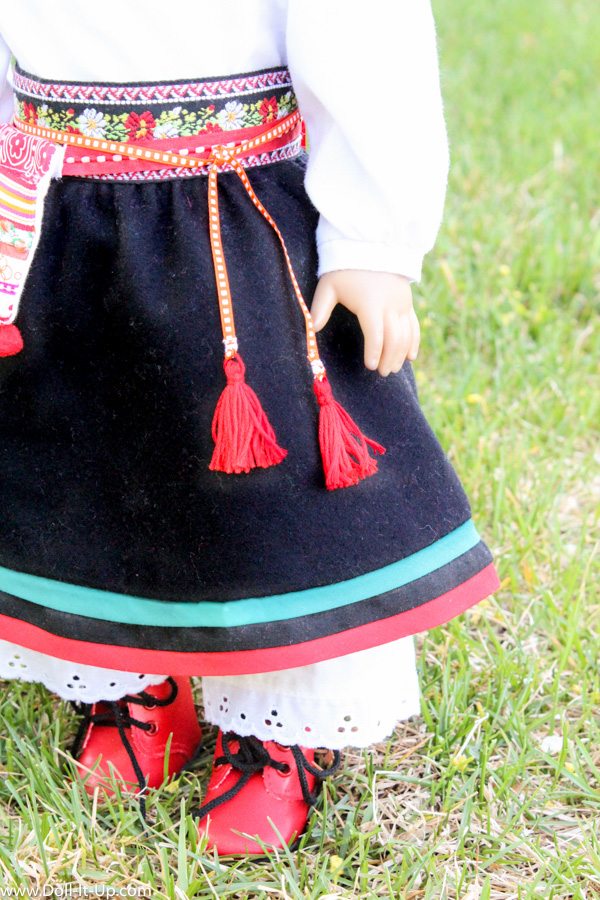 Pair these accessories with a shirt and skirt or a dress that is white, red, black, blue or green.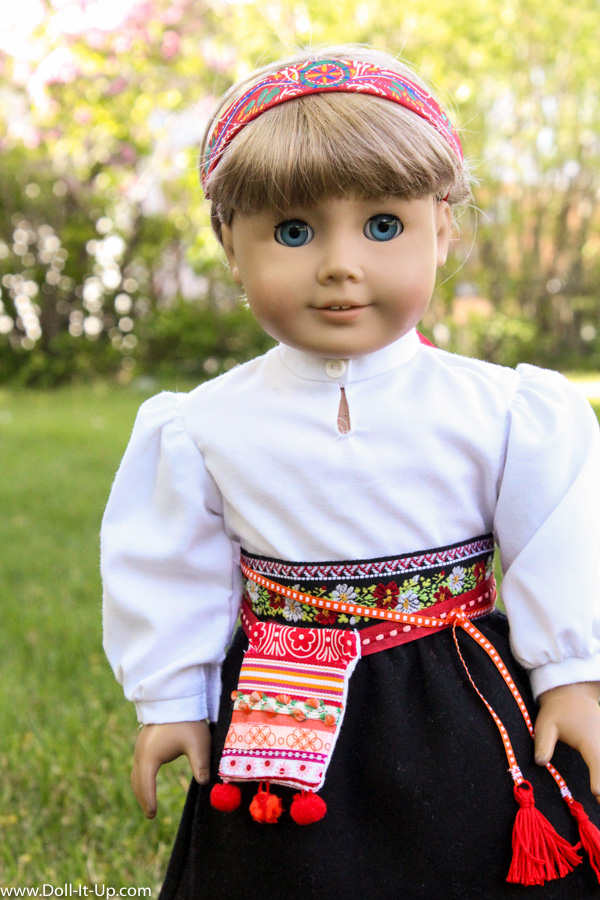 I also made a waist pocket, a little decorative purse worn at the waist.  I am working on a pattern to share!
I hope you enjoy the Scandinavian folk costume accessories for dolls!
Happy playing!
Anna
Post details for you: Doll– Kirsten is a historical character doll from American Girl.  Outfit– Kirsten's Winter Skirt and Blouse.