Will you take my updated sewing survey?  I'm planning new patterns for 2018 and would love to hear from you!
---
A reader answered a question on my sewing survey just the other day that got me thinking.

First of all thank you, to this reader and the many others of you that have taken the time to fill out the sewing survey.  It is so great to get feedback from you!
I relate to this reader and have struggled with sourcing fabric for doll clothes over the years too.
Fortunately, in my pattern making this year for my upcoming book I spent a lot of time sourcing fabric and discovered a great source for a particular fabric that I want to share with you today.
I am hooked.  It comes in a variety of trendy colors, it is great to sew on, the price is right and it is widely available.  Here is a sample of my stash.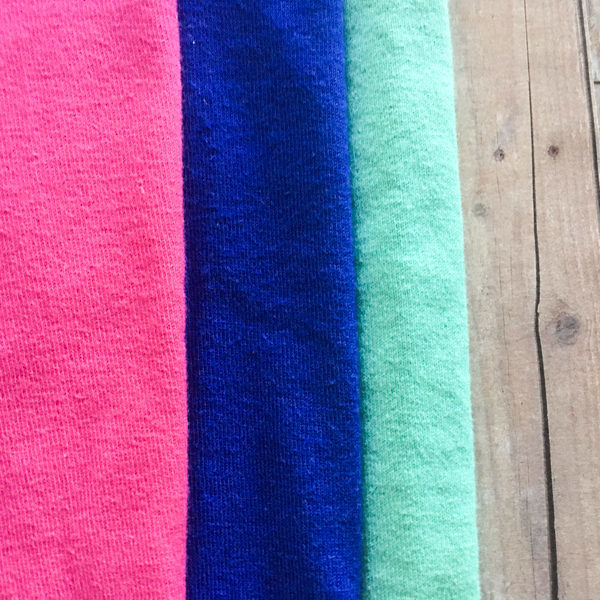 Wait this is not regular fabric yardage!  It is a stash of t-shirts that is my "fabric" for sewing doll clothes.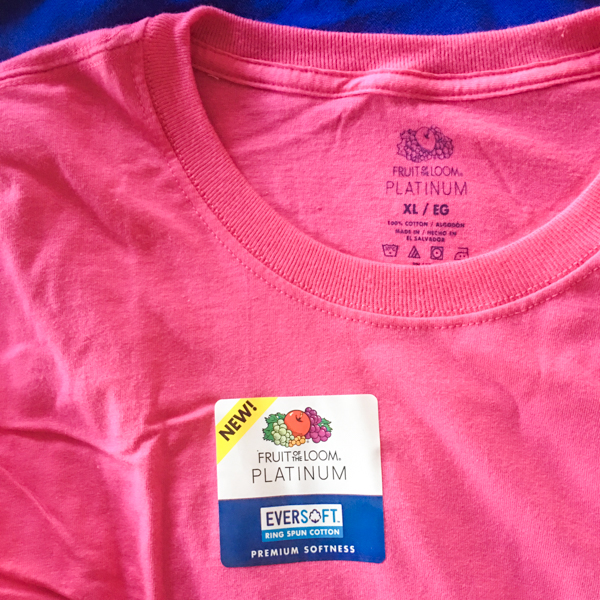 Let talk about why t-shirts make great fabric for doll clothes.
Trendy Colors
Every season t-shirts come out in a variety of new colors.  That means you have a constant source for new trendy colors for your sewing projects!
Great to Sew On
T-shirt knits are some of the easiest knits to sew on.  They are stable (not slippery).  The only thing you need to keep an eye out for is a decent stretch recovery.  (Stretch recovery is the fabrics' ability to return to the same shape and size after being stretched.  It is super simple to check, just stretch a 4″ section of the fabric moderately.  When you release it, if it returns to about the same size, it has good stretch recovery.  After stretching the fabric if it stays stretched out, the fabric has poor stretch recovery.  Poor stretch recovery can lead to stretched out seams and that is frustrating, so it's worth the simple check.)
The Price is Right
A plain t-shirt is often $5. I bought a few t-shirts at a recent sale for $2 each.  I scooped up a bunch at an end of season sale for $1.  Buy the largest sizes for the most fabric for your money.
Available at a Variety of Stores
T-shirts are a staple at your local clothing store and you will even find them at your local craft stores.
Fabric Options
I love flexibility and options when I'm sewing doll clothes.  For my last pattern, the Lucy Gown, I knew the dress would be beautiful in many different knit fabrics but I wanted to design a pattern that would be amazing in a t-shirt knit.  It was a personal challenge for me because I wanted this dress at the very core to be a project that could be made from something as easy to find as a t-shirt.
In a way this pattern and fabric option is mind blowing.  The two stand in contrast, a t-shirt and a ball gown, but voila, it's like magic, the drape of a t-shirt is beautiful on the skirt of the dress!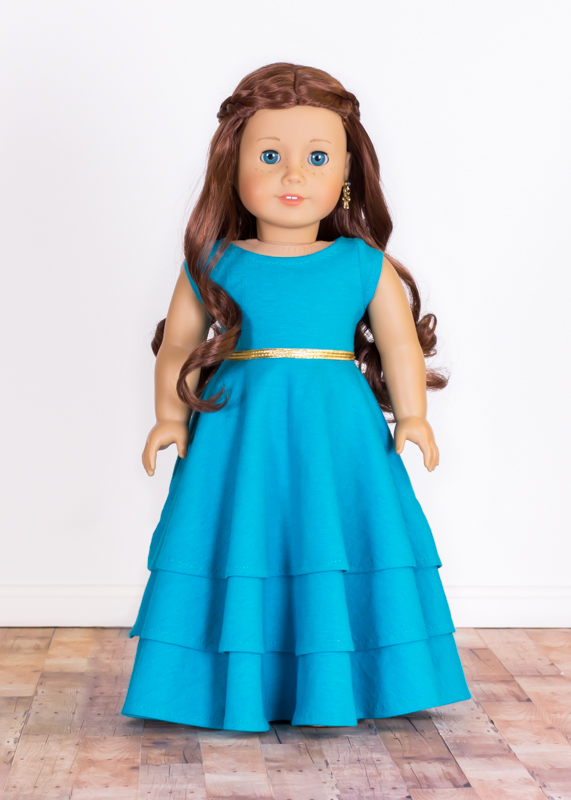 I'm just getting started when it comes to using t-shirts for doll clothes fabric.  I feel like the options are endless to design more patterns that will work with t-shirts as the fabric.  Of course there will always be a variety of options for what fabric you choose to sew up the patterns.  At the heart of it I've come up with one solution to the reader's frustration of sourcing fabric for making doll clothes.  Yay!  I hope you will try using a t-shirt as fabric for an upcoming doll clothes sewing project!  Let me know if you do, I would love to hear about it!
-Anna
P.S. Don't worry I haven't given up on my local fabric store.  I still love to peruse the isles.   T-shirts have just opened up another source and alleviated some frustration in sourcing fabric.  In fact my next pattern in the works was inspired by this fabric stash at the store.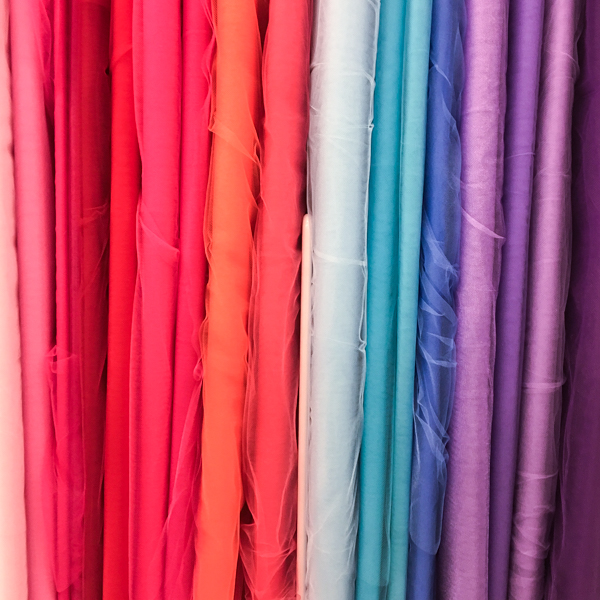 Ooo, and I can't wait to show you what I have in the works!
Check back soon to see the next pattern up in the shop!
In the meantime, take my new sewing survey to help me plan patterns for 2018!